In business as in sports, high-performing teams aren't built on talent alone. While a certain level of individual talent is an essential element, teams that ultimately win championships—or outperform the competition in business—have talented members who work together and collaborate as a cohesive group. And the key element in creating that collaboration is emotional intelligence, or EQ.
Per Wikipedia, "Emotional intelligence (EI, or emotion quotient—EQ) is most often defined as the ability to perceive, use, understand, manage, and handle emotions. People with high emotional intelligence can…adjust emotions to adapt to environments. The term…gained popularity in the best-selling book Emotional Intelligence, by science journalist Daniel Goleman. Goleman defined EI as the array of skills and characteristics that drive leadership performance."
How can you visualize EQ? On the Miles LeHane blog, Evan Watkins and Dr. Jean Greaves, authors of the book Team Emotional Intelligence 2.0: The Four Essential Skills of High Performing Teams, share this powerful graphic illustrating the four "roots" and 20 visible signs of teams with high EQ.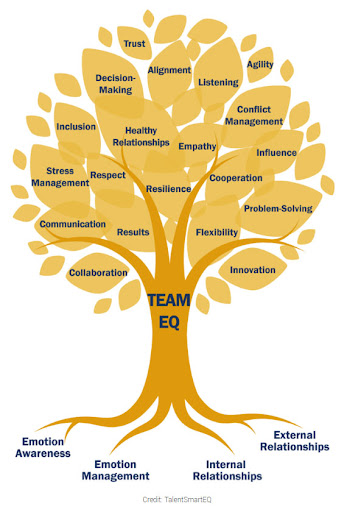 To help corporate and other organization teams improve their EQ and team performance, Best Corporate Events offers an Emotional Intelligence Training workshop within our professional development programs. We asked team development professional Steve Ockerbloom to explain how our EQ training supports elements in the Watkins/Greaves model.
The Roots of EQ
"There's a great phrase, 'IQ will get you hired. EQ will get you promoted,'" says Steve. "To go a step beyond that, EQ not only gets you promoted, but EQ helps you and the rest of the team more generally achieve high performance.
"When you think about what EQ does, looking at the roots of that tree, it starts with awareness about yourself and awareness about other people. One of the nice things about emotional intelligence is that, while it can help leaders maximize team performance, EQ is also great in terms of learning how to work more collaboratively with team members, for their benefit and mine as well.
"Because if our team doesn't have high EQ, we'll be constantly butting heads, failing to maximize our potential, not being resilient through challenges and problems…and that's incredibly stressful for all of us.
"In our Emotional Intelligence Training workshop, we really take a look at those four facets of the tree root system. How aware are we of ourselves and about the people around us? Are we strong in terms of being able to manage stress in the moment and in our lives more generally? What are some tools we can use to build and strengthen relationships with each other, as well as with our clients and other external relationships?"
The Visible "Fruit" of Strong EQ
"For example, understanding more about how we can innovate," Steve continues. "How can we avoid 'idea duck hunting'? That's when somebody floats up an idea, but before it really has a chance to take off, someone else shoots it down. It really doesn't feel good, and it makes everyone in the group hesitant to express new ideas.
"That's a classic example of a lack of emotional intelligence about how easy it is for us to judge the ideas of others based on our own experiences and biases before anyone has a chance to really explore, discuss, and talk about why they think it's going to be potentially useful.
"So, our emotional intelligence can help us improve at innovation by actually creating a better brainstorming process, whether as a leader or a team member. With higher EQ, team members improve their listening skills and collaboration, and become more inclusive, leading to better decision making.
"What are some things that we can do in the moment from an emotional intelligence standpoint when we're dealing with a client who is unhappy, upset, very vocal, perhaps even angry and aggressive? How do we remain rational?
"It's challenging because when our emotional side is engaged, we often have a 'fight, flight, freeze, or appease' (create artificial harmony) reaction. When we're incredibly emotional, it's really hard for us to be reasonable and rational.
"Our Emotional Intelligence Training workshop teaches participants how to get back to engaging reasonably and rationally when they're in a highly charged emotional situation, how to 'lower the temperature' and de-escalate, handle that stress, express empathy, manage conflict, and deal with emotional clients, being able to understand and to establish more elements of trust."
For some people, trust is as simple as "do what you say you'll do." But for many others, Steve points out, trust is more than that. "Trust is showing an element of vulnerability. One of the points Patrick Lencioni writes about in his book, The Five Dysfunctions of a Team, is that 87% of people feel like they can establish more trust when their colleague shows an element of vulnerability. For example, vulnerability can be as simple as saying, 'I need help with this issue," or admitting, 'I'm not a subject matter expert in this area, and I value your opinion here.'"
There's a limit to this, of course. Being vulnerable doesn't mean being helpless. But, Steve explains, "Our emotional intelligence workshop talks about how we can show an element of vulnerability that can actually help and strengthen the team, and establish greater trust.
"In general, the Emotional Intelligence Training workshop gives us many tools we can use in our next meeting, in our decision-making, in cooperating with and influencing others, whether or not we're leaders. Those tools are great for helping us assess problems, situations, and opportunities better as a team and to work together more productively."
Summary
The most successful organizations are not simply collections of high-performing individuals, but rather teams of talented people who work together effectively and collaboratively to make and implement the best decisions.
But achieving that level of coordination and cooperation can be challenging. Everyone brings their own perspectives, biases, opinions, and emotions into the mix. Team members who are unable to recognize their own emotional reactions and empathize with others can derail progress and cause unnecessary, unproductive conflict.
Authors Evan Watkins and Dr. Jean Greaves have developed a helpful visual model of EQ, with the sources of emotional intelligence illustrated as tree roots and the benefits and effects of higher EQ as the tree's leaves or fruit.
Emotional intelligence training can help individuals become more aware of and better manage their emotions, and use those skills to improve relationships with coworkers, customers, and business partners. Teams with high EQ among their members can perform at a high level across many metrics, from clearer communication and lower stress to greater agility and better decision making.
Our Emotional Intelligence Workshop teaches participants about the components of EI / EQ and how to apply them as tools for professional growth and building high-performing teams.