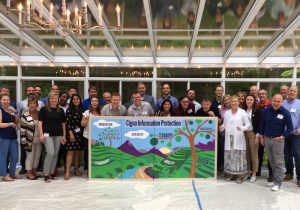 In our Corporate Canvas program, every person in your group will have an opportunity to paint and sign a section of a large colorful company mural. These paintings will be an artistic representation of your company's culture. We incorporate your company logo and the words Innovation, Passion, Integrity, Leadership, Quality, Teamwork, Diversity, and Success into each design.
Each mural is conveniently presented for painting as eight separately framed 2-foot by 2-foot canvases that together form each large, colorful 4-foot by 8-foot mural painting. We will customize the piece with your company logo and pre-print a light grey border around the entire 4-foot x 8-foot painting so each one of the painters (participants) can sign their name with a Sharpie® after they've finished painting their section.
Our Corporate Canvas program includes icebreakers, one or more corporate canvases depending upon the size of your group, and a fun, creative puzzle piece project involving lots of markers and imagination.
We've designed four versions of Corporate Canvas for your company to choose from, produced as paint-by-number canvases, and including your company logo. You can also choose to paint two or more canvases depending upon your group size or the number of offices.
Corporate Canvas can be delivered as a standalone team building program or as an add-on to a conference, party or meeting where hundreds of people can come up during the event, paint for a few minutes, and sign their name to the piece.