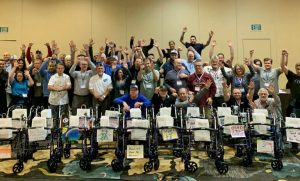 Build-A-Rollator® is a heartwarming CSR program benefiting the growing population of disadvantaged people with mobility and standing challenges.
Rollators are rolling walkers. These high-quality Rollators feature large 8″non-marking wheels, sturdy handbrakes, a fold-up, and removable back support, a padded seat, plastic tray, and an attached bag to store personal items. The special loop locks, composed of internal aluminum casting, operate easily and ensure safety. The Rollators come with a lever to allow for independent handle height and angle adjustment.
With the use of Apple iPads, teams complete fun trivia, photo, and video challenges to earn trips to the "Rollator store" to gain the parts and supplies necessary to build their Rollators.
Once assembled, a representative from each team will visit the inspection station, where our facilitators will check each rollator for proper assembly. The team will then fill a bag designed to attach to each Rollator with a care pack for recipients, including a covered tumbler with a straw, puzzle book, notebook and pencils, a fidget spinner, non-slip socks, and travel-size tissues and hand sanitizer, along with notes of encouragement.
The Rollators will be staged with your teams for a memorable photoshoot, and, whenever possible, a representative from the chosen charity will make a surprise appearance, sharing information about their organization and the impact your donation will have on the recipients.
After the conclusion of the event, a link to the photos and videos captured by the participants during the program will be made available for you to relive the memories of this fun and worthwhile team-building event.
To ensure a great experience, aspects of this program may be modified for your group size, group makeup, time available, and other variables.
Build-a-Rollator® is a registered trademark of Best Corporate Events, LLC.