When it comes to the performance of work teams, "our diversity is our strength" isn't just a slogan. Dozens of research studies over time have shown that diverse teams are smarter, increase financial returns to the organization, and perform 30% better than homogeneous teams.
Diversity and inclusion are often thought of in racial or ethnic terms, but also include diversity of approaches and perspectives. When team members think about problems differently, the team is more likely to make better decisions because it will evaluate the situation from different angles.
As a very simple example, "drivers"—people who throw around phrases like "move fast and break things," "get 'er done," and "just do it"—help keep teams moving forward. But team members who are detail-oriented "questioners" and "collaborators" prevent the group from moving too fast and overlooking important considerations. The most effective teams have a mix of these personality types.
The key to unlocking the high-performance potential of diverse teams is skilled management. Without the right tools in place for managers to understand and address the different personalities, perspectives, and work styles of team members, there are significant risks of dissatisfaction, dysfunction, and eventually employee turnover.
Here are several tools, processes, and programs that can help managers optimize the collaboration, cohesion, and performance of diverse work teams. But first, a quick look at the risks of getting it wrong.
Risks of Mismanaging Diverse Teams
Improper management can lead to dissension and disagreement within the team, as well as disengagement and even departure of skilled employees. So how does a manager know there are problems that need to be addressed?
It's a combination of verbal and non-verbal cues. Is there conflict? Is there frustration? Are people unhappy? You, as the team leader, can probably see by their body language or their tone of voice that something is bothering them.
Getting the team back on track requires digging in to determine what's really going wrong beneath the surface. Too often, when one team member is seen as "holding the team back," the temptation is to steamroll forward and let that individual work it out and catch up.
Talented employees start off in new roles with enthusiasm, with the desire to be empowered and to make a difference. But if they aren't given time to think things through, if they don't feel their concerns are being listened to or addressed, they will begin to disengage.
Leaders are generally skilled at managing employees at the tactical level: "Do you have enough resources? Enough training? How are you doing on your goals? How's your task list going on our timeline?"
But they also need the "soft skills" to understand how each of their employees processes information. Do they need more details? Just the big picture? Do they need to collaborate and check in with others? When managers don't get this and accommodate different work styles, they too often end up surprised when talented employees walk out the door.
How to Optimize Performance Teams with Diverse Personality Types
Effectively managing team members with diverse personalities starts with a behavioral assessment. You need a tool that will provide a roadmap for these discussions, because optimizing team cohesion isn't tactical; there isn't a simple list of items you can check off.
The tactical side of team management is about metrics you can hit when thinking about SMART goals. Did we complete all of our tasks? Did we meet our timelines? Did we stay within budget? Those are checklist goals.
But when you think about team cohesion, culture, and managing a mix of personalities, you have to take a different tack. It's all about building a culture.
A behavioral assessment is ground zero for this effort because it provides insights about "what makes people tick" in ways you usually can't get from observation, even if you've worked with an individual for years. Suppose that person doesn't say much in meetings—is it because they are processing the information, or because they are thinking three steps ahead?
As an example, a salesperson and an accountant may both be very good with numbers, but the accountant values structure and detail while the salesperson prefers more operational latitude and the freedom to move quickly.
It's up to you as the leader to figure out who on your team needs details, who wants to "figure out as we go," and who wants to discuss the issues with a wider range of people.
Tools to Help Manage Teams with Different Personalities and Work Styles
Building team cohesion across diverse personalities is like driving without GPS (or even a map) if you aren't using some type of assessment tool. You're making decisions based on gut instinct instead of science. Here are three tools that can provide the basis for more effective management of diverse personality types.
DiSC: DiSC is an acronym that stands for the four main personality profiles described in the DiSC model: (D)ominance, (i)nfluence, (S)teadiness and (C)onscientiousness. Depending on which personality type an individual best fits, that person will place relatively more or less emphasis on factors like getting results, influencing others, collaborating, or digging into details.
Understanding the different personality types on a team helps managers more effectively communicate with and motivate each individual. It improves understanding, leading to improved cohesion and reduced conflict.
Myers-Briggs Type Indicator (MBTI): This assessment can help dramatically improve team dynamics by clearly identifying the strengths and benefits associated with specific personality traits. It provides terminology that can be used in the workplace to handle disagreements respectfully and productively.
The MBTI assessment helps managers understand the personality composition of their team so they can communicate more effectively, improving performance while minimizing unproductive and corrosive conflict.
Predictive Index: This provides managers and leaders with the tools to have better conversations with team members, helping them understand each person's drivers using a simple placard.
For example, consider this team with five members: Josh, Catherine, Julie, Ian, and Michael. Each has a different pattern.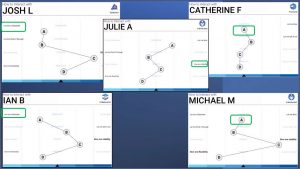 Looking at these placards you can see, for example, Josh and Ian like to collaborate. Julie's is "Let me drive," while Catherine and Michael are situational: sometimes they'll take a lead and want to drive, and sometimes they'll collaborate.
That information alone allows you to better understand why Julie is always the most talkative in every meeting. But Josh and Ian prefer to test the waters with other people it will affect. Julie, who likes to drive, just trusts the process, so she doesn't need to collaborate on many decisions.
Julie, Josh, and Michael are all "Let me think it through" types as well, while Catherine and Ian like to talk it out. So, again, when you're in meetings and talking about launching a new product or project, understanding how your different team members address the problem helps you facilitate that conversation because you can see that Catherine and Ian want to talk it out, while you may need to prompt the other team members to tell you what they are thinking or what pieces of the puzzle you may be missing.
Using any of these behavioral assessment tools is more effective than simply asking questions, because most people aren't able to articulate what these assessments reveal. The results are as enlightening to the individuals themselves as to their managers.
As a leader, these assessments will help you understand, for example, whether a team member needs more details in order to make a decision; prefers to collaborate with others first; or simply needs to think it all through. From a team cohesion standpoint, you need to understand these workplace drivers because they don't fit neatly into management checklists. The key is behavioral assessments.
Team Building and Professional Development Programs to Help Manage Diverse Personalities
Best Corporate Events offers a number of team building and professional development programs that can help your managers better understand teams with diverse personality types while helping team members to better understand themselves and each other. The result is more cohesive, higher-performing teams.
Among these programs are:
Developing Emerging Leaders: Over a series of five virtual group sessions, this program utilizes the Predictive Index to assist in developing high-potential individual contributors into your organization's next generation of leaders.
It addresses the four workplace drivers at several levels, starting with identifying who you are and understanding where you are. The program then progresses into communication; dealing with conflict; managing up and across the organization; and finally, managing and developing others.
DiSC Profile Workshop: This program introduces your team to the DiSC Model, a behavior assessment tool that helps professionals understand their own styles of behavior and communication, as well as those of their colleagues. Learning how to manage these styles and identify areas in need of improvement can help participants eliminate bad habits, minimize conflict, and improve overall team success.
Emotional Intelligence (EI) Training: An emotionally intelligent organization is one in which each member understands their Emotional Quotient (EQ) and how best to tap into it for professional growth. Applying EI within an organization helps to build trust and encourage open communication. This compelling, informative workshop covers case studies on EI, its six major components, and how one can apply their own EQ in the workplace.
Myers-Briggs Type Indicator (MBTI) Training: This eye-opening program introduces your group to the Myers-Briggs Type Indicator (MBTI) assessment. This tool can dramatically improve team dynamics by identifying personality types and demonstrating how the knowledge of these types can be applied to improve group communication, cohesion, and performance. Participants will also gain a comprehensive understanding of their specific personality traits, what strengths they bring to the table, and how they can improve.
Conclusion
Research consistently shows that teams comprised of diverse personality types outperform and make better decisions than more homogenous groups. But managing such diverse teams to optimize cohesion and performance is challenging.
Behavior assessments are the key to unleashing team performance and preventing unproductive conflict. The results of these assessments help managers understand how to most effectively communicate with each team member, while providing team members with insights that help them better understand their own drivers and characteristics, and how to collaborate productively with each other.
There are several different assessment tools available to help managers and teams, including the DiSC profile, MBTI, and Predictive Index. Each provides a distinctive output format and terminology to help manage group dynamics. Predictive Index uses placards that describe individuals across four personality dimensions.
Professional development training programs help leaders and team members best use the output of these assessment tools. Programs range from in-person workshops to multi-session virtual training exercises. The end result is happier, higher-functioning teams that are more cohesive and less plagued by unproductive conflict.
Our virtual professional development workshops are ideal for bringing together teams across regions or in hybrid work environments to enhance conflict resolution and team management skills. These workshops combine professional facilitation, the latest remote work technologies, and an engaging, dynamic approach to leadership development.
Pressed for time? Our virtual training programs offer the core learning and growth opportunities of a full professional development workshop in a more compact time frame.
The end result is happier, higher-functioning teams that are more cohesive and less plagued by unproductive conflict.