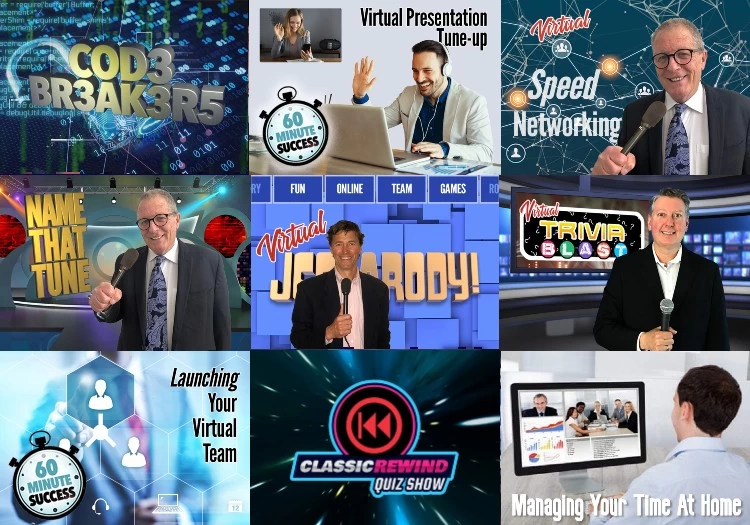 Order a Virtual Event Series and skip the hassles of coordinating everyone's schedule. It will energize your employees and give them something fun and engaging to look forward to every week or month.
One booking and you're done. Choose from over 30 virtual programs and events! We deliver virtual events 24/7 – worldwide – so don't forget your overseas employees!
Simply pick any day and time every week or month, then notify your team to add the event series to their calendars. That's it! Now, you can relax and enjoy the fun with your team for weeks to come!
For larger groups, you can ensure that everyone has a chance to join in the competitive fun by booking each event at two or more different times on each day! And as a "Thank you" to your employees, our Game Shows can be delivered during evenings or weekends so their families can join in on the fun!
Pick any number of events in any order and frequency to make your custom Virtual Event Series.
A sample of a Game Show 6-pack:
Week 1: Code Breakers
Week 2: Name that Tune!
Week 3: Hooray for Hollywood!
Week 4: Jeoparody!
Week 5: Classic Rewind
Week 6: Trivia Blast!
A sample 6-pack mix of Game Shows and 60-Minute Professional Development:

Week 1: Awesome 80's!
Week 2: Virtual Team Tune-up!
Week 3: Speed Networking
Week 4: Presentation Skills Tune-up!
Week 5: Trivia Blast!
Week 6: Work from Home Skills!
A sample 6-pack of Professional Development and Team Building:
Week 1: Virtual Team Tune-up!
Week 2: Competition to Collaboration!
Week 3: Presentation Skills Tune-up!
Week 4: Total Recall!
Week 5: Time Management Tune-up!
Week 6: "Minute to Win it" competition with CSR donation!